The Food and Wine Guide to Naples and Campania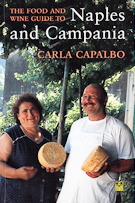 ---
A few years after the Tuscan book came out, I was asked by the great southern Italian chef, Alfonso Iaccarino, to do another regional guide about the foods and wines of Campania. I moved 1,000 kilometres south of my house on Lago Maggiore, and lived in diverse parts of this amazing region to research, photograph and write this 450-page guide. As one Campanian friend put it, "once you get us under your skin, you'll never leave Campania again," and she was right. Much of my research was ground breaking, and took me to villages and artisan food makers no one had writen about before.
Winner, Best English-language guide book, Gourmand international awards.
Pallas Athene, London, 2005.