Carla Capalbo is an award-winning food, wine and travel writer and photographer. She has written 13 books about food and wine, including cookbooks and independent travel guides to Italian regions and to Georgia, in the Caucasus. Many are illustrated with her photography. Her work as a journalist, author, editor and stylist on both sides of the Atlantic spans over twenty-five years and stands out for its distinctive flair and personal voice. She's passionate about small farmers, the soil, chefs, natural wines and food in all its guises.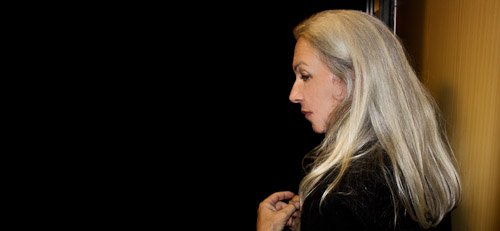 Photo of Carla Capalbo by Bob Noto
Carla was born in New York to a theatrical family, brought up in London and Paris and later lived in Italy for over 20 years. After earning a degree in art history she made sculpture in London, wrote about design and worked in Manhattan as a food and interiors stylist for photography for clients that included the New York Times. She moved to Italy in 1989 and worked as the Milan correspondent for Vogue Décoration before writing her first cookbooks on Italian food. Her spirit of adventure led her to undertake detailed guides to the food and wine cultures of Italy and Georgia.
Carla is now based in London again but travels for work as often as she can. She's a longstanding member of the British Guild of Food Writers, the Circle of Wine Writers and of Slow Food. Her collaboration with the UK wine magazine, Decanter, has lasted over two decades.
After focusing on Italy for many years, Carla went to Georgia for the first time in 2013. She fell in love with the country and its people and spent the next three years writing and photographing a very big book about it: Tasting Georgia: a Food and Wine Journey in the Caucasus. The book received instant acclaim and has won several prestigious awards, including the Guild of Food Writers' Food and Travel Award. It's been featured by the New York Times, Saveur Magazine, on BBC Radio 4 Food Programme and countless other media outlets. Newsweek called it one of the 6 Best Travel Books of the last decade. Since then she has written the first of a series of very small books on Georgian themes, Khachapuri and Georgian Filled Breads.
Carla's 2009 book on the Collio winemaking region of Friuli, in north-eastern Italy, won the André Simon Memorial Prize for Best Wine Book 2009 and was a finalist for a Le Cordon Bleu World Food Media Award 2010. In 2006 Carla organized the creation of a Campania garden at the Chelsea Flower Show, London; it won a gold medal and was visited by the Queen. In 2007 she was awarded the Luigi Veronelli Prize for Best Wine and Food Writer in Italy in a foreign language, and the Premio Attems for her writing about Friuli in Decanter Magazine.Her articles have been included in many anthologies, including Best Food Writing 2010, and How the British Fell in Love with Food.
Her consultancy work includes projects for Sale e Pepe's website, Georgia's wine promotion and tourism agencies, Campania and Friuli Regions, the European Parliament Agriculture sector and for prestigious British food retailers. For several years she lent her expertise on Italian food to a large British group specializing in Italian restaurants.
Carla runs private food tours in various regions of Georgia, Italy and France, and has worked with prestigious travel operators including Wild Frontiers, MIR Corporation and Martin Randall Travel.
For information on how you can work with Carla, contact us.