Books that Include My Articles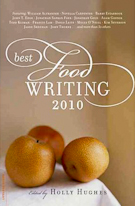 ---
Best Food Writing 2010
Edited by Holly Hughes
Holly Hughes began publishing collections of the best food writing (primarily American) in 1999. Her books have traced the trends and treasures of modern cuisine, and make great reading for food lovers and non. I was delighted to be included in this edition of it, with one of my first articles for Zester Daily, El Bulli Gets Bested, written after I watched chef René Redzepi take the stage as Number 1 at the World's 50 Best Restaurant awards in London in 2010.

Da Capo, 2010.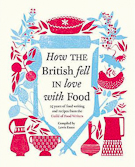 ---
How The British Fell in Love with Food
This is a fantastic compilation of the best food writing and recipes from members of Britain's Guild of Food Writers, edited by Lewis Esson and beautifully illustrated for the Guild's 25th birthday. It traces the many changing movements and trends in British food and its writing from the 1980s to the present. It's an honour for me to be represented by two pieces of writing: an excerpt from my Tuscan book, and my article about Cook it Raw, originally published in the Guild's magazine, Savour. The book deservedly won Best Culinary History Book at the Gourmand Cookbook Awards, 2010.

Simon and Schuster, London . 2010.