AA Spiral Guide to Venice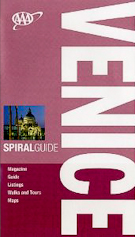 ---
The British Automobile Association had the intelligent idea in this series to ask two specialists to co-author each book, one for the art, and one for the food and other listings. I spent several weeks eating my way around Venice for my part, incuding staying in a convent with a curfew.
Listings author: reviews of over 60 restaurants in Venice, plus hotels and shops.
AA Publishing U.K. First published, autumn 2001.