Three Days in Almansa, June 2022
August 30, 2022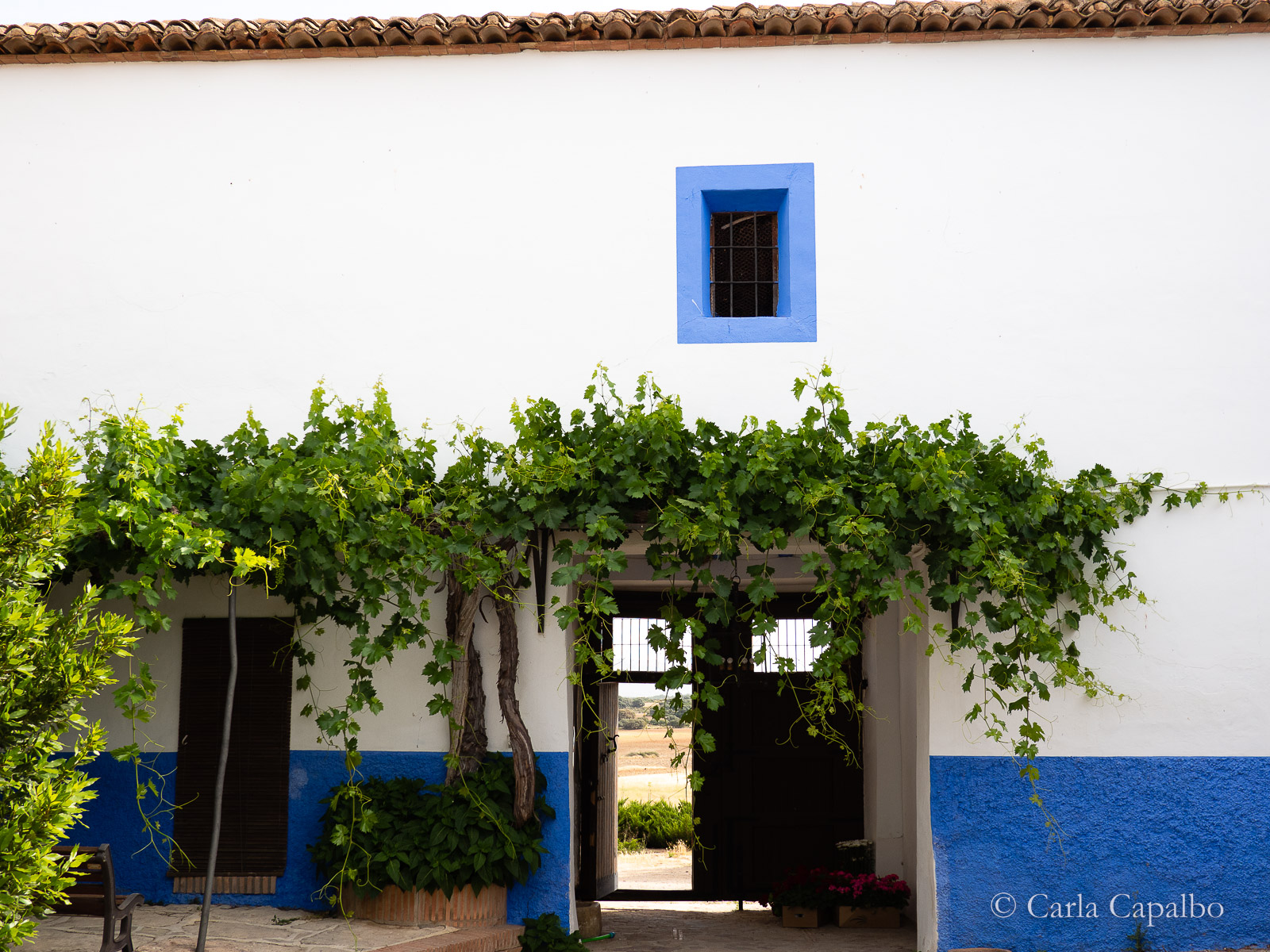 A courtyard at Mata Mangos
My first meeting with producers from Almansa D.O. took place in the recently restored San Blas chapel, a deconsecrated 18th-century church in the heart of the town of Almansa. Like so much of Spain, the intricately decorated church had seen its share of strife and pain, even doubling as a hospital during the Spanish Civil War. Today it's a peaceful place, with a courtyard and small garden to host visitors. It is also the headquarters of the wine appellation.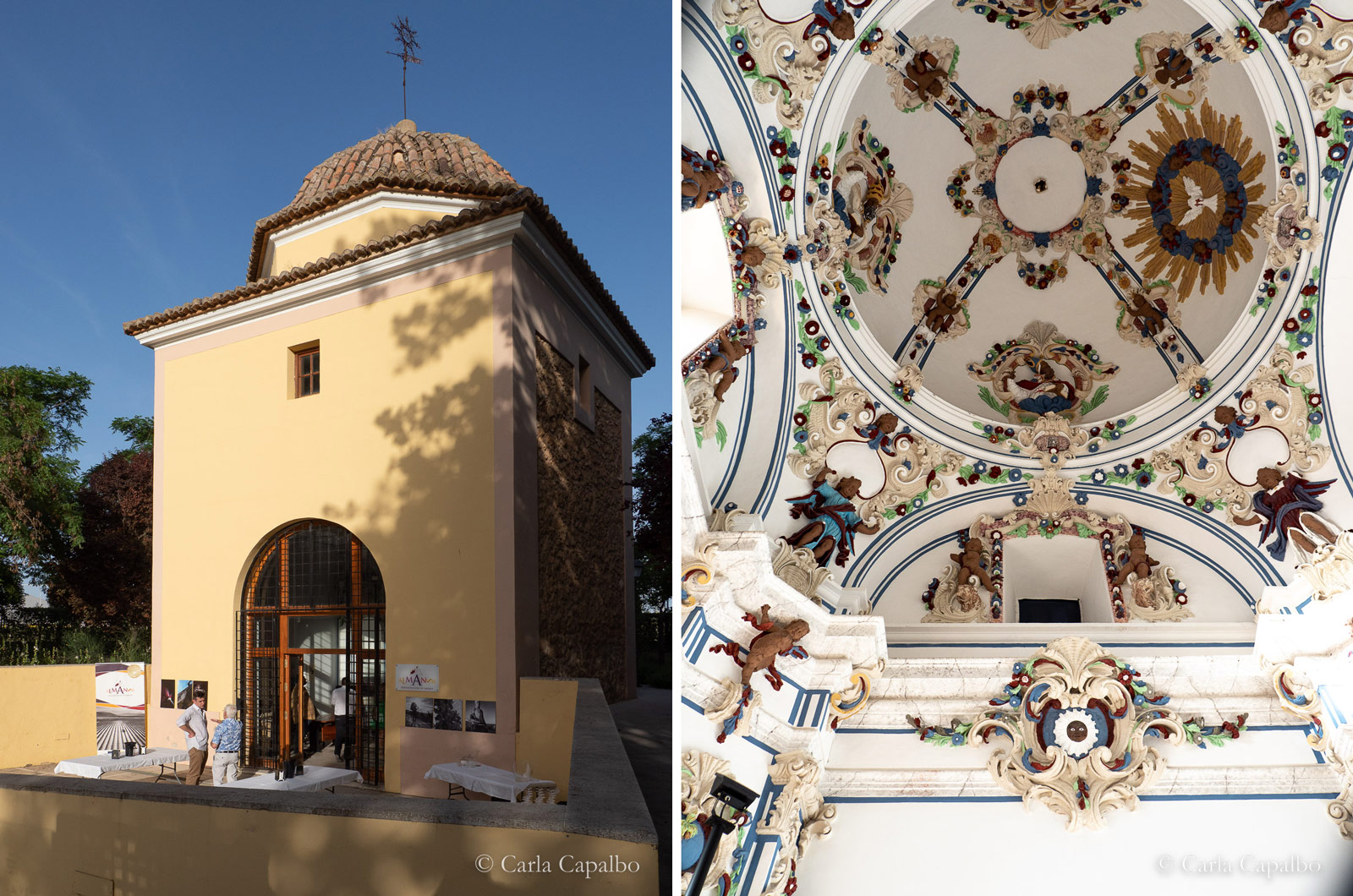 San Blas Chapel and a detail of its decoration
Our aperitivo there included refreshing Verdejo and some beautifully presented snacks. I loved the tiny glasses of emulsion made from watermelon, milk and olive oil and the ceviche of sea bass, lubina.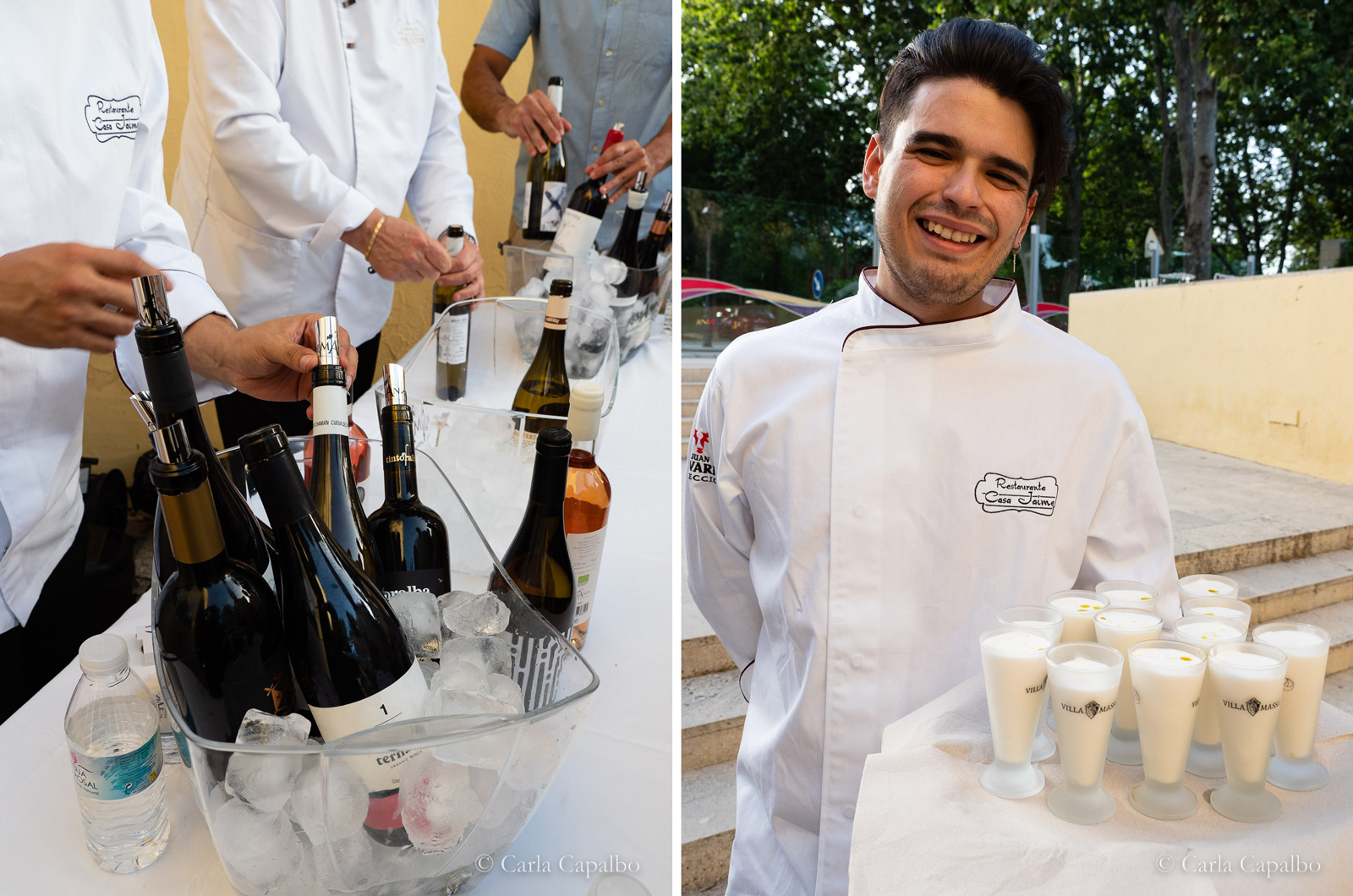 Aperitivo wines and watermelon emulsion
Almansa is a small but important wine-producing area located about 330 kilometres southeast of Madrid and 110 southwest of Valencia in the region of Castilla-La Mancha. So it is not far from the sea. What makes it so interesting for viticulture is its high altitude: the town is at 750 metres above sea level, with the vineyards reaching up to 1,000 in some places. Despite scorchingly hot summers many of the wines retain their freshness. Alcohol contents are high, not surprisingly, but the wines are far more drinkable than the daytime temperatures might suggest, thanks to cooler air at night. A large portion of the vineyards are on a plain that is dominated by the long and flat Sierra del Mugrón mountain range.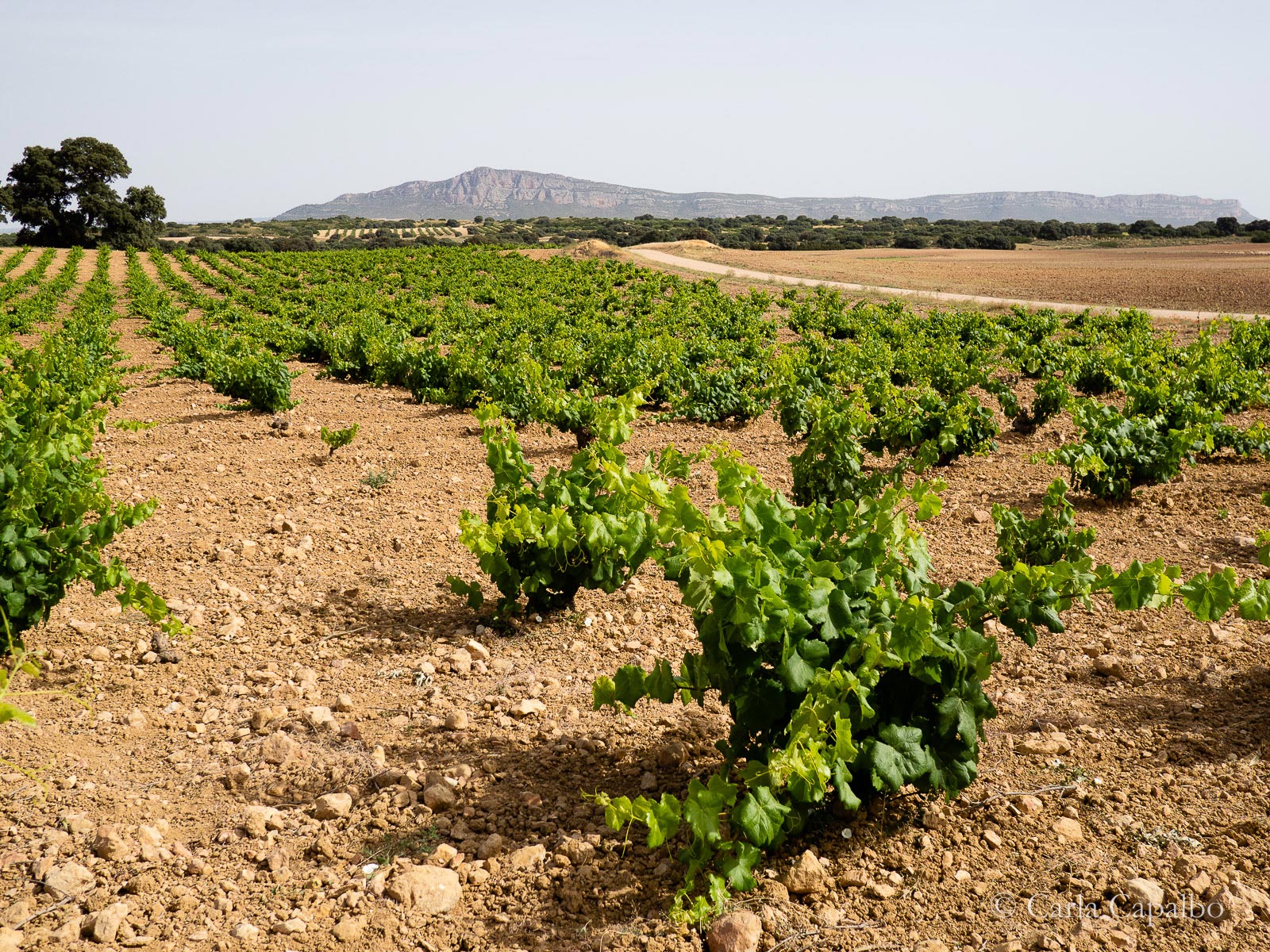 Mata Mangos vineyards with Sierra del Mugrón behind
Our short trip was aimed at a handful of buyers (plus me) and the first day's work was to taste the wines. I enjoyed the format. The ten participating wine estates were seated at individual tables around a conference room in Hotel Blu. We were given 30 minutes with each, then a bell was rung and we moved on – like in speed dating. After these meetings and tastings we selected a winery route to visit on the second day. The wineries ranged from small private estates to large cooperatives producing most of what is sold in Almansa as bulk wine. The tasting was instructive and offered a rare opportunity to discover wines in many styles from this unique terroir. It was followed by a good lunch in the hotel that featured a huge paella.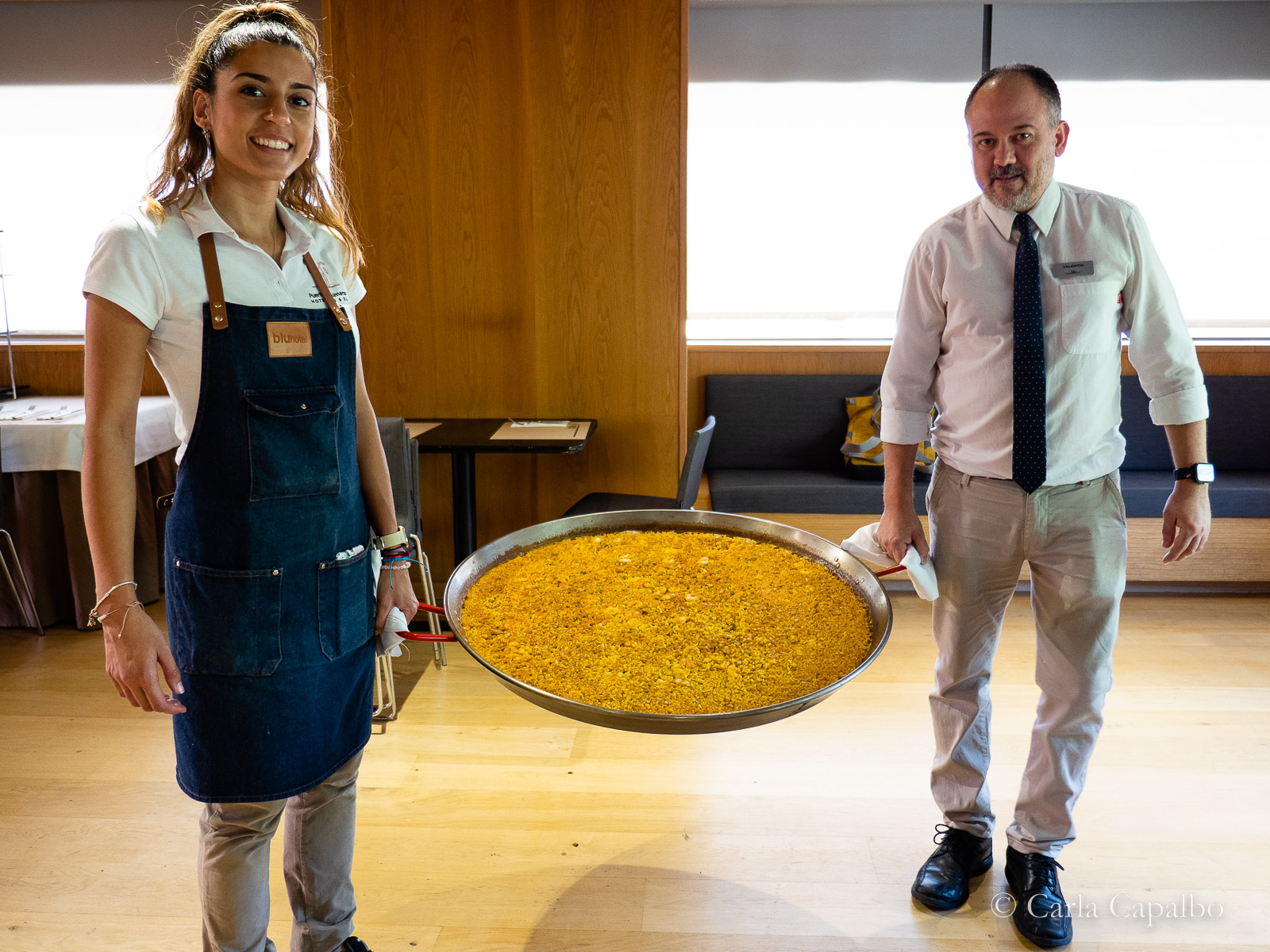 Our abundant paella
The primary grapes of Almansa are the reds, Garnacha Tintorera and Monastrell, with Syrah, Cabernet Sauvignon and Merlot appearing in much smaller quantities. Whites include Verdejo and Sauvignon Blanc.
Garnacha Tintorera is a red-fleshed or teinturier grape. Whereas most grape varieties have colourless pulp and get their colour from the skins, Garnacha Tintorera (the word suggests staining or dye) is one of the few varieties (like Georgia's Saperavi or Tuscany's Colorino) whose berries have coloured pulp too, so the wines take on a deeper hue and may have higher anthocyanins and tannins. (Garnacha Tintorera is also known as Alicante Henri Bouschet, a grape widely used in the south of France.) Garnacha Tintorera has a long history of being produced in bulk to bolster lighter-coloured wines from other regions and countries but in Almansa it is currently being bottled alone or in blends with Monastrell or Syrah.
Monastrell is a late-ripening variety, so Almansa's hot and long summers suit it well. Its tendency towards high tannins and high alcohol are tempered in Almansa by the vineyards' high altitude. Monastrell at its best brings delicious notes of blackberries and rich fruitiness. (In the south of France it is known as Mourvèdre or Mourvede.) Both of these varieties do well when cultivated as bush vines.
Almansa's vineyards are grown in an unusual climate, at high altitude and influenced by Mount Mugrón, but subject too to winds coming across from the Mediterranean sea. This saltiness can influence the soils as well as the flavour of the wines.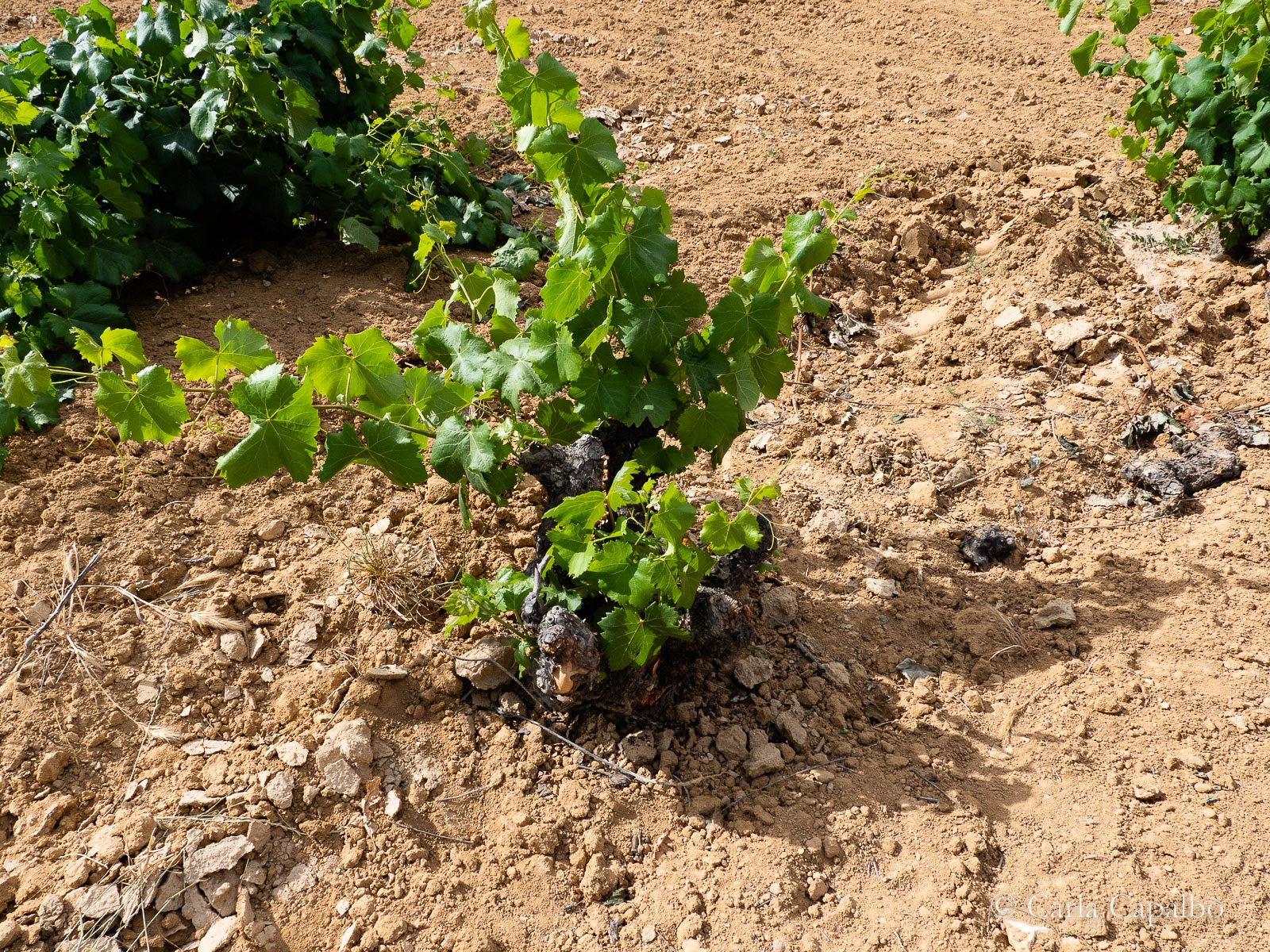 Bush vine at Bodegas Cano
I'm drawn to artisan wineries where the owners have a personal impact on their wines' style. But cooperatives in which many small growers pool their resources to produce wines from a central cellar are also interesting. It's a format that works well in Almansa and has worked successfully too in parts of Italy and France. Our tour included visits to both types.
It also gave us a chance to explore the stunning scenery. Sierra Mugrón was ever present, whichever side we were on. The mountain's microclimate was almost palpable in the dramatic skies that were drawn across the landscape as we moved around its base. I also loved the interplanting of olive groves with bush-vine vineyards, the pale earth contrasting starkly with the verdant vines.

The view from Mata Mangos
I was excited to visit Bodegas Cano as I'm a fan of wines made in earthenware pots. Adolfo Cano and his sister, Elena, showed us the cellar with its very large tinajas. Adolfo runs the family winery with her. He is also the president of the D.O. Almansa. I asked him about making wine in the clay:
"The tinaja is less porous than wood but still allows the wines to breathe, so they obtain a micro-oxygenation," he said. "The wines evolve better in them." The family business was founded in 1860 and Adolfo, who represents its fifth generation, uses the traditional tinajas for some of their white wines. The estate includes 120 hectares of vineyards and produces cereal and other crops. I look forward to seeing how their new projects evolve.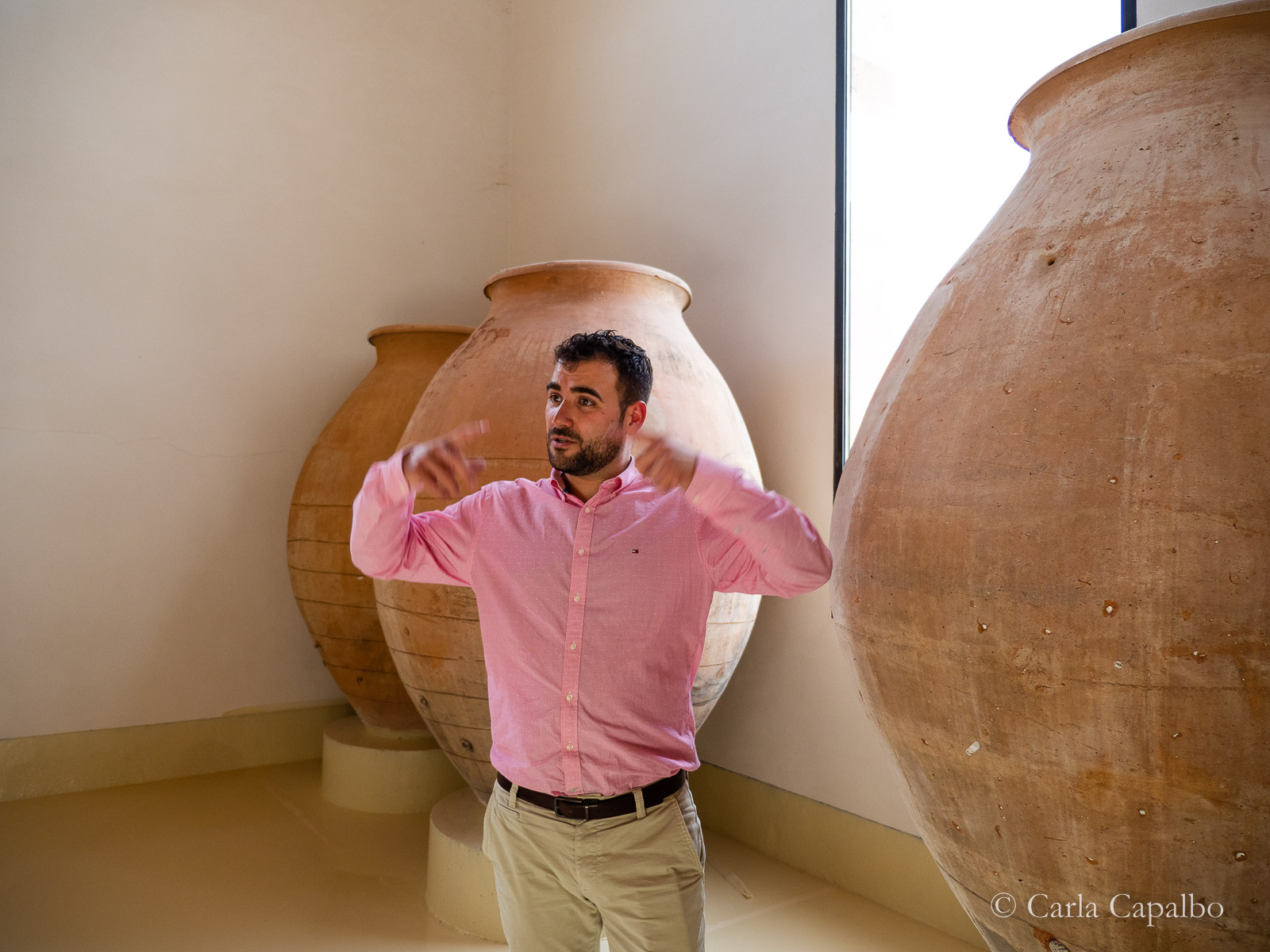 Adolfo with the tinajas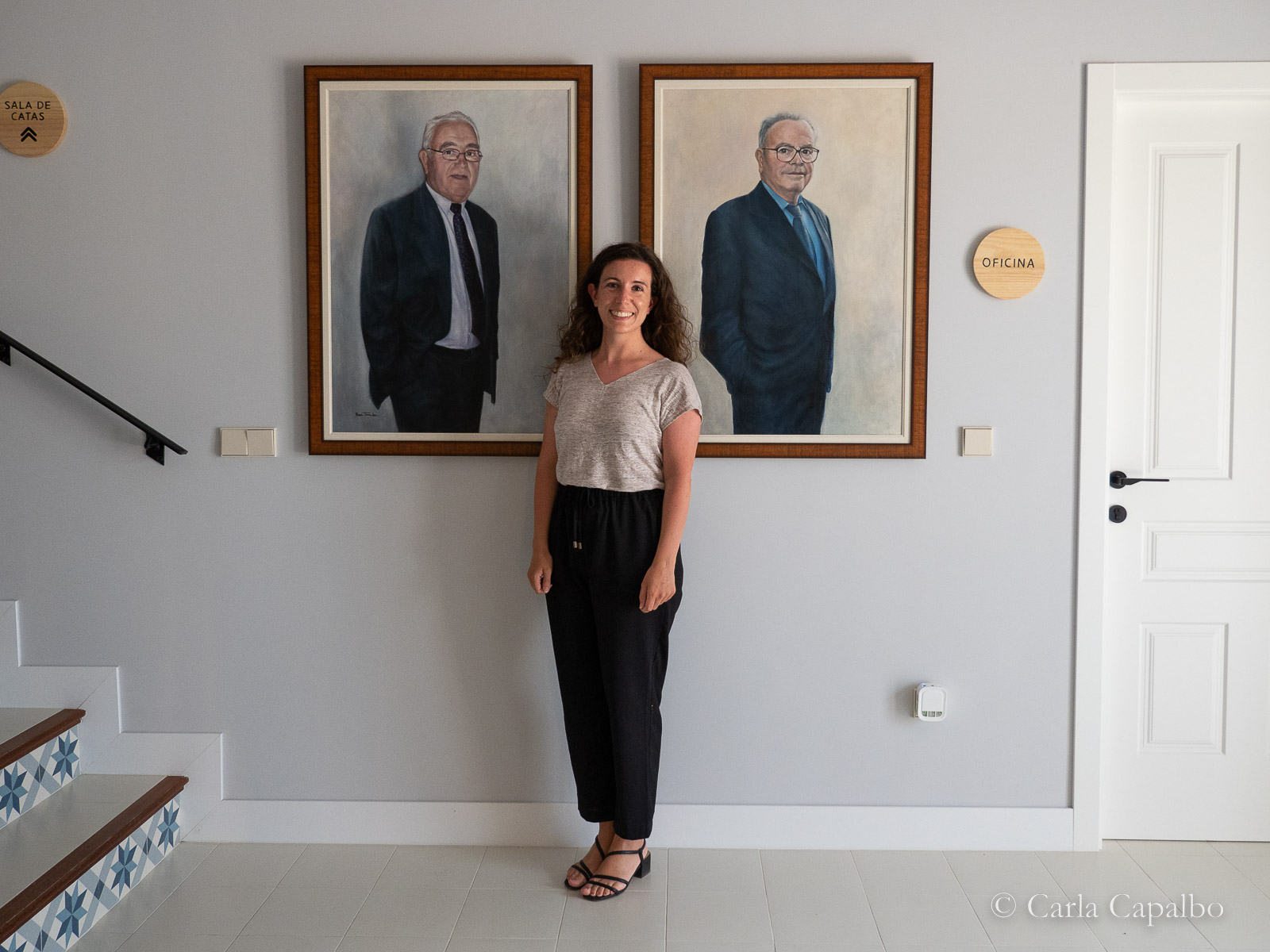 Elena Cano
Mata Mangos is also a family winery, run by Carlos Gramage and his father, Cristóbal, who bought the property in 1998. It's a beautiful estate, both in its location and in the lovingly restored buildings with their inner courtyards and blue trim. They date from 1704. The property had been abandoned for 100 years before the family bought it.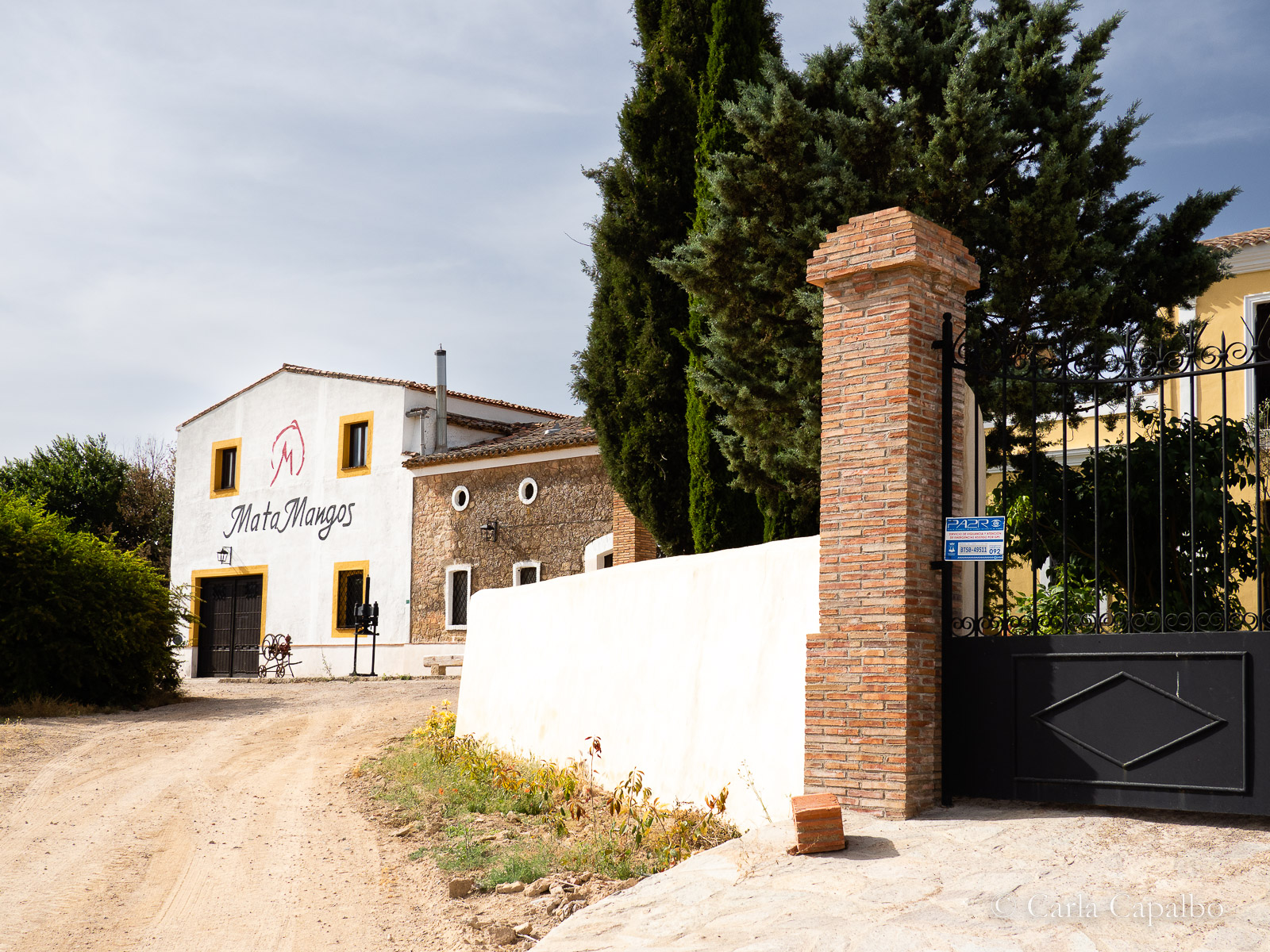 Mata Mangos
Mata Mangos is the smallest estate in the appellation and is situated high at between 820 and 950 metres above sea level. Carlos has clear ideas of the kinds of wines he wants to make: he's converted the vineyards to organic and recently replaced his small barriques with 500-litre barrels so the wines would not be overpowered by the wood. He makes three wines from 6 hectares of vineyards, selling any excess grapes. The estate focuses mainly on Monastrell and Garnacha Tintorera, with vines aged from 40 to 78 years, mostly as freestanding bush vines. He's gradually replanting all local grapes though currently he does use some Syrah and Cabernet Sauvignon in the blends. The wines are very good: I appreciated their traditional drinkability too.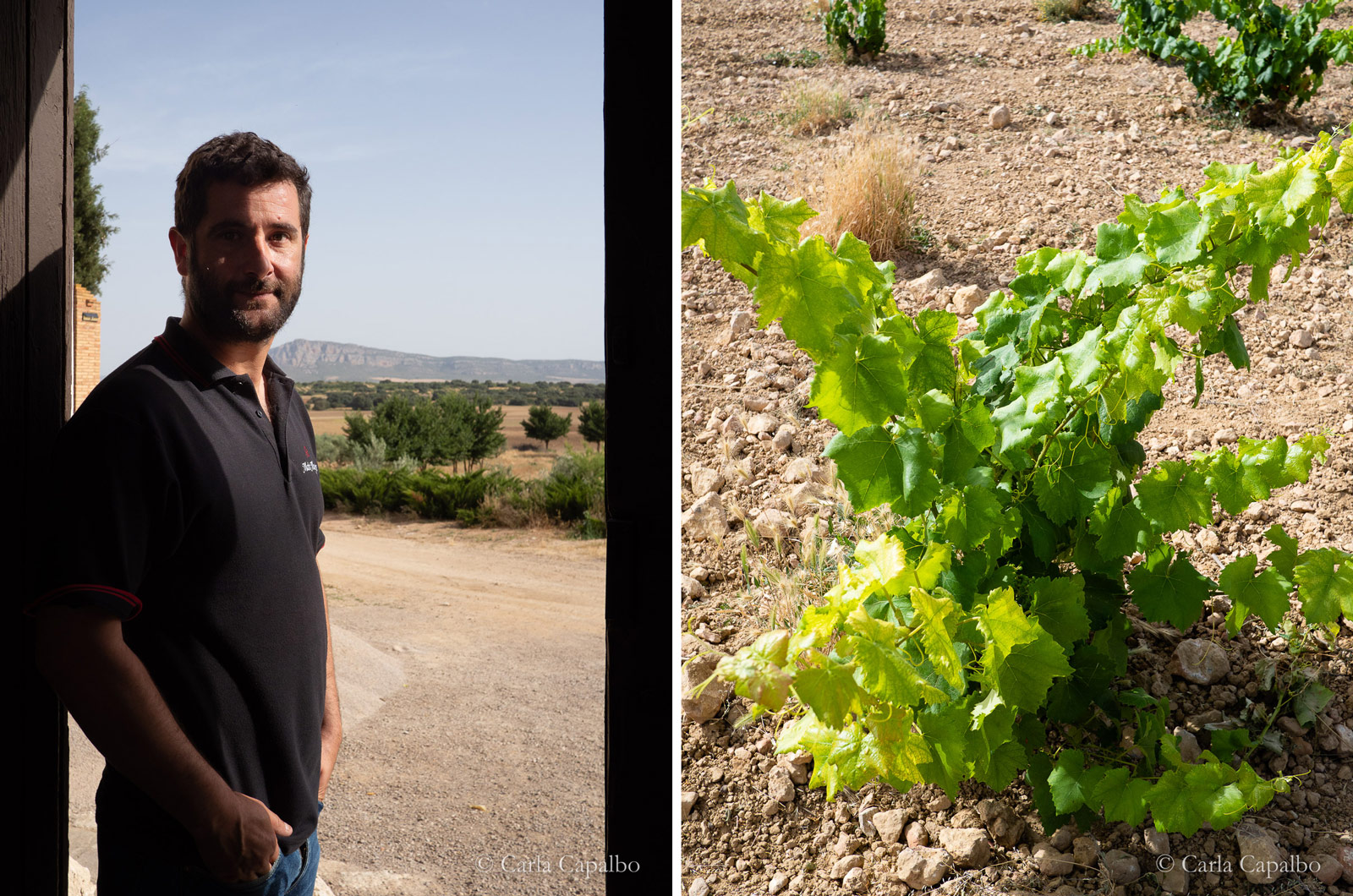 Carlos Gramage and Mata Mangos bush vine
Bodegas Piqueras is on a much bigger scale, with two wineries, 200 hectares of vineyards and an annual production of 3.5 million bottles. Within that large number of bottles there is scope for different lines. At the top end are traditional wines such as the Reserva which is made from Garnacha Tintorera, Monastrell and Tempranillo grown on older bush vines. A wild-fermented Verdejo is made from a single vineyard at 920 metres, its juicy saltiness a reflection of the sandy soils in which seashells and fossils can be found. Despite their unusually high altitudes, Almansa wines often express the influence of the Mediterranean.
Piqueras is also targeting spaces in the markets for less expensive wines than, say, Rioja and has adopted some dynamic commercial approaches. "We're interested in attracting the Coke generation, younger customers who may not be so used to drinking wine," says Pieter Whaley, the export manager. A ripe, easy to drink Syrah fits the bill here. With a large range of styles and prices, they're well positioned to make inroads into those markets.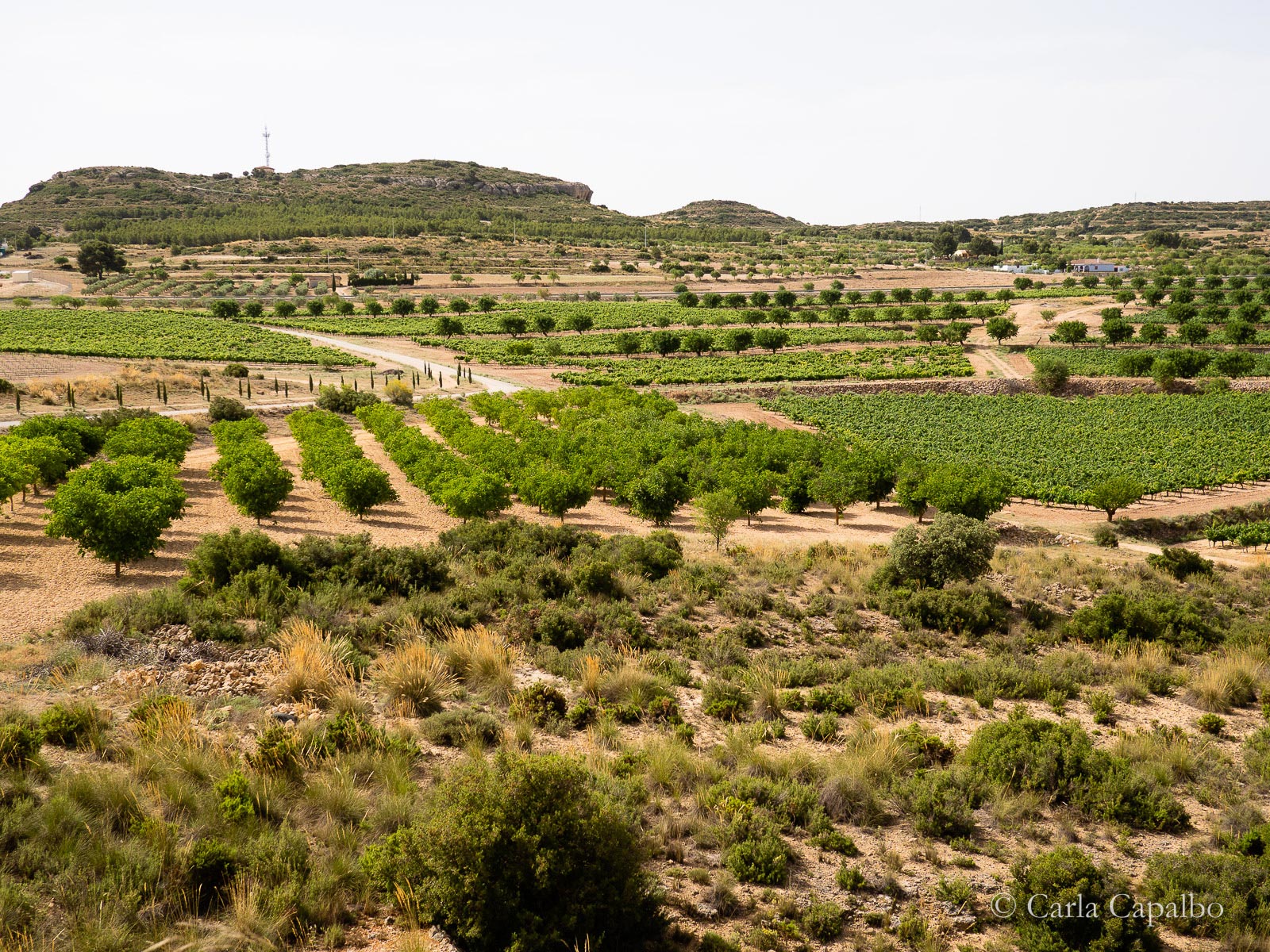 The view from Piqueras
Bodegas El Tanino is a cooperative winery founded in 2006 by a small group of experienced growers. Their primary focus is on Garnacha Tintorera cultivated at 970 metres above sea level. "The difference here between day and night temperatures is very marked," says Francisca Ciges Montes, the winemaker. "Our soils are poor, of limestone and quite stony, but the vines send down deep roots to counter the dryness."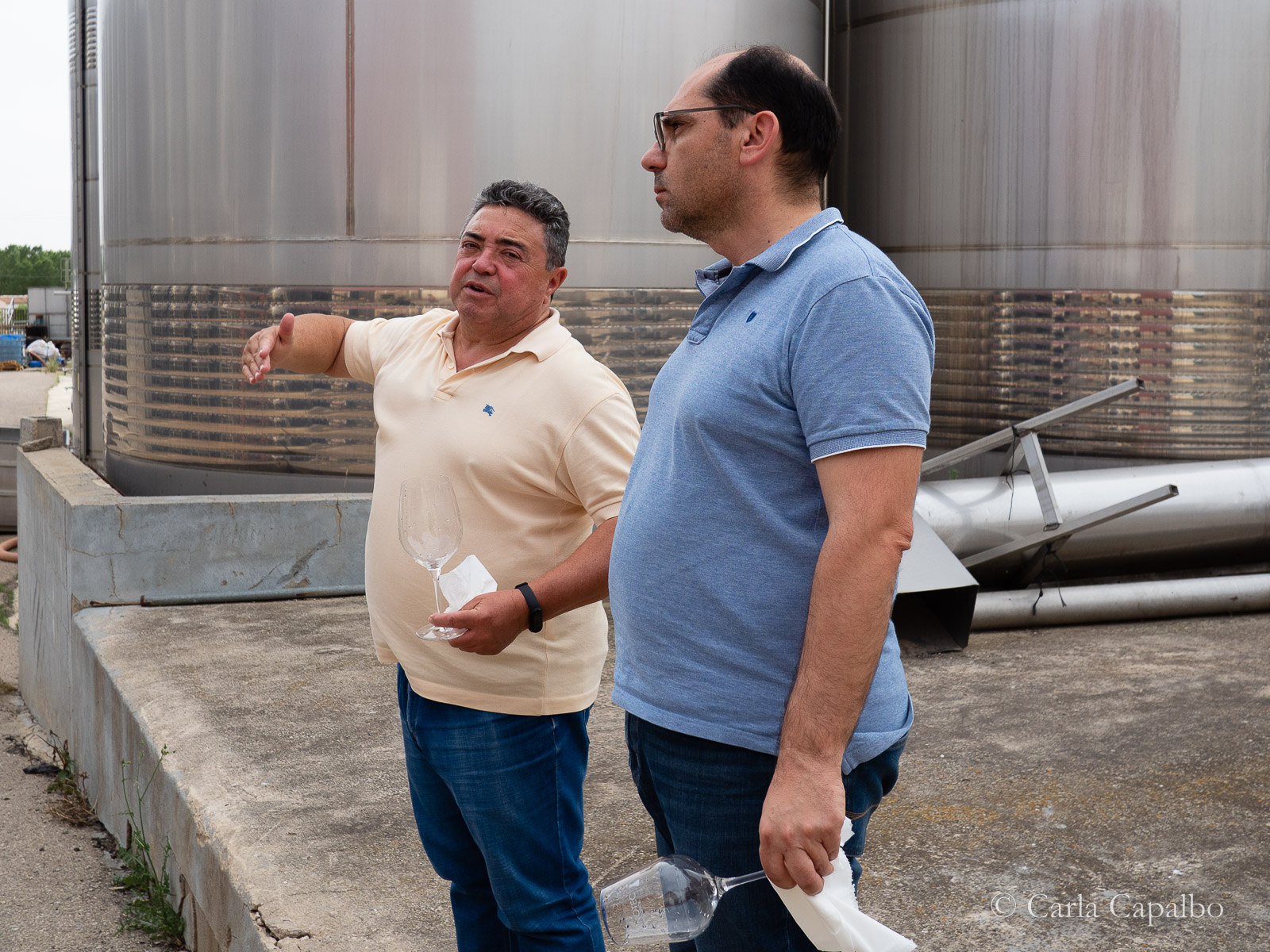 Pedro Sarrión and Javier Navarro of Tintoralba
Our final stop was to Cooperativa Tintoralba, located near Almansa in the township of Higueruela. The winery is situated at over 1,000 metres and, as winemaker Pedro Sarrión pointed out, just 100 kms from the sea. Here too Garnacha Tintorera is a mainstay, produced very affordably for distribution in more than 15 countries.
As we walked around the vast outdoor tanks, Sarrión described his 'formula' for producing their wines. "A grape's pulp is just sugar and water," he said. "The flavour, colour and tannins all come from the skins. So if we ferment at low temperatures of 15°C, we get flavour and aromas but less colour. Push the fermentation temperature higher and you lose aromas but get much more colour."
To illustrate this, he treated us to a sampling of wines that varied in depth of colour and temperatures. A very interesting exercise!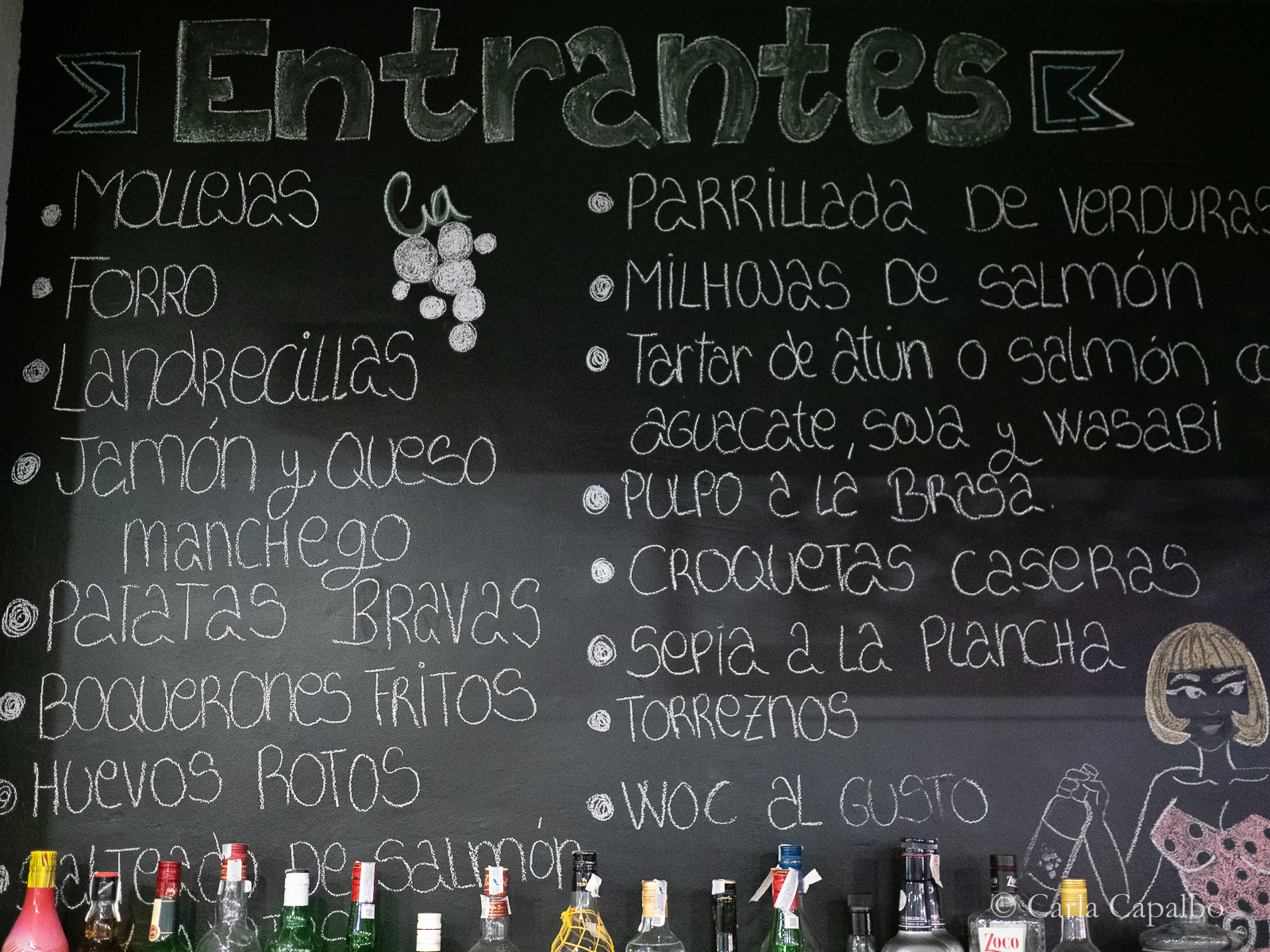 La Garnacha's menu
Unusually for me, I've barely mentioned the food on this trip, despite it being seasonal and delicious. I loved the salads of tuna and tomatoes that featured in several meals, and eating outside in the centre of old Almansa with the hubbub of the local children playing around us was memorable too. One of my favourite places was La Garnacha in Higueruela. This unassuming bar, with its paper tablecloths, TV screens and old-fashioned toy-scooping machines had a wonderfully enticing menu. We had grilled octopus, blood sausages, and a stylish version of yes, tuna salad. We even sampled their speciality: gazpacho Manchego, a thick wintery stew of pasta, rabbit and partridge. Not perhaps ideal for a hot summer's day, but well worth tasting.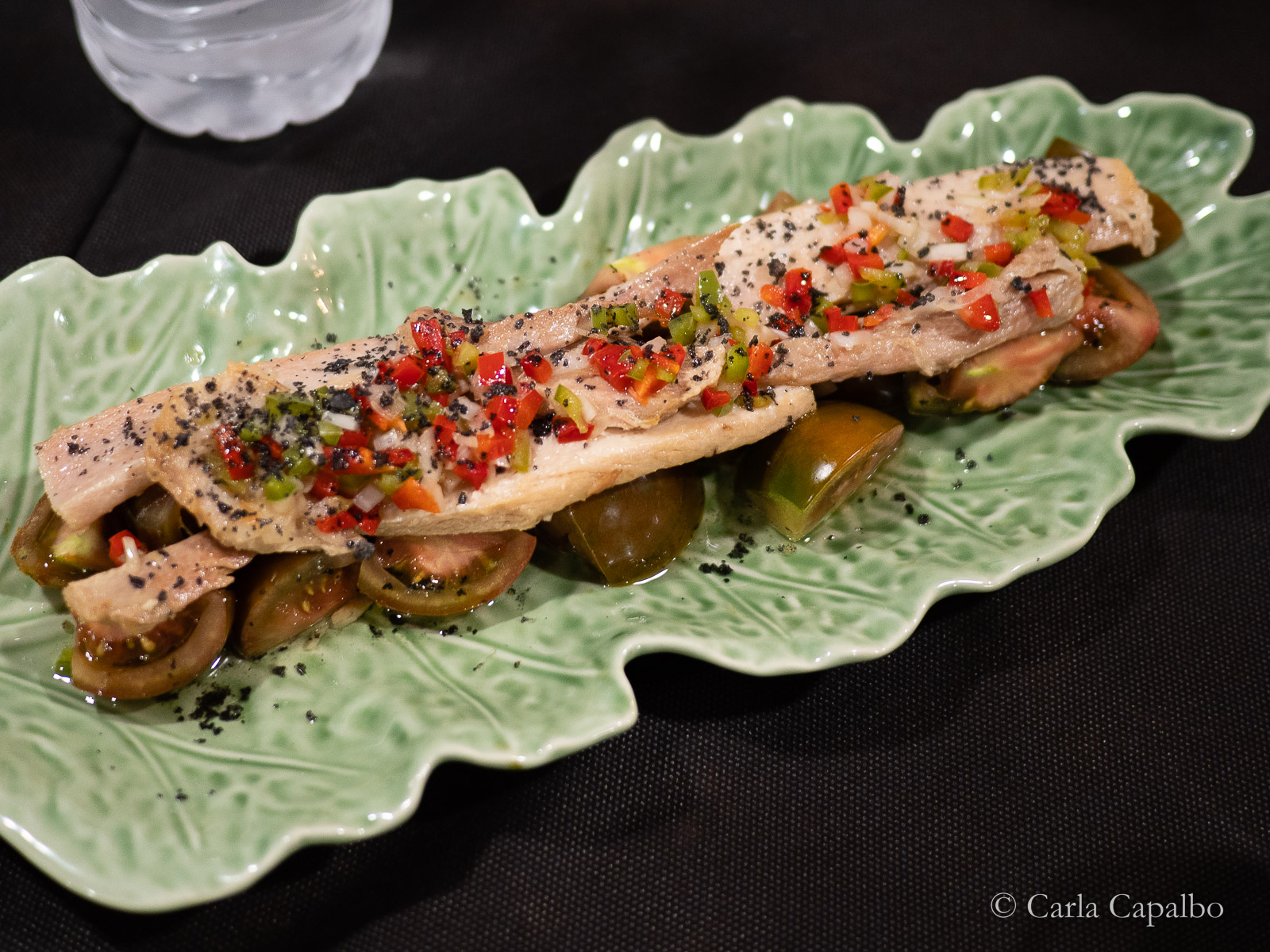 La Garnacha's tuna salad
We had our final dinner at Restaurant El Rincón de Pedro in the centre of Almansa. This is a more formal place, with a long bar for cocktails and tapas, and a dining room with a few unusual paintings in it, including the one below. The food was classically Spanish: baby shrimp to eat with their shells, tiny cuttlefish stewed with fava beans so small they looked like peas, wild mushrooms topped with egg, bacalao in light batter with rich tomato sauce…a feast. Of the many desserts my favourite was torrija, a caramelised take on pain perdu that was hot, soft, crunchy and sublime.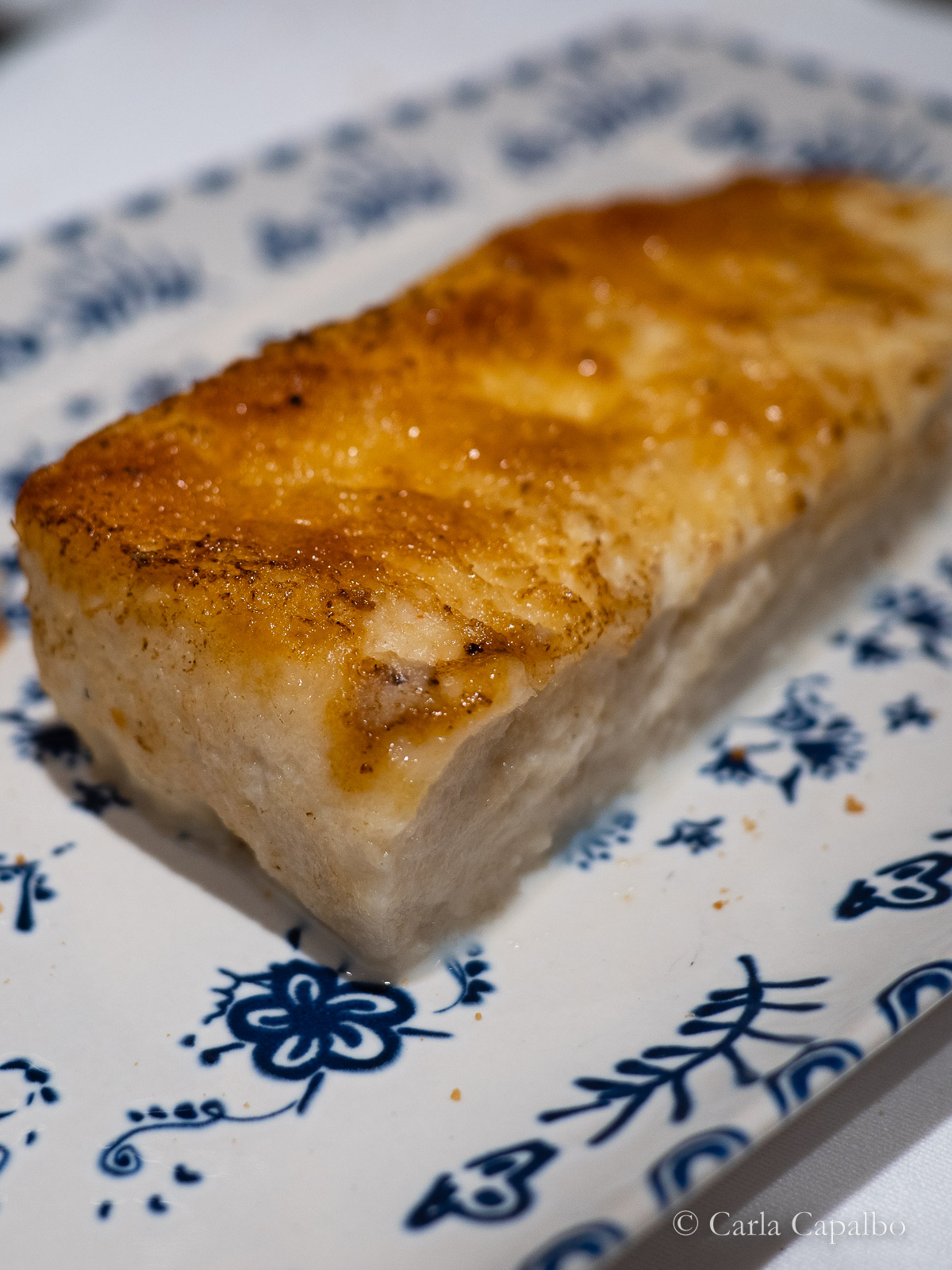 The torrija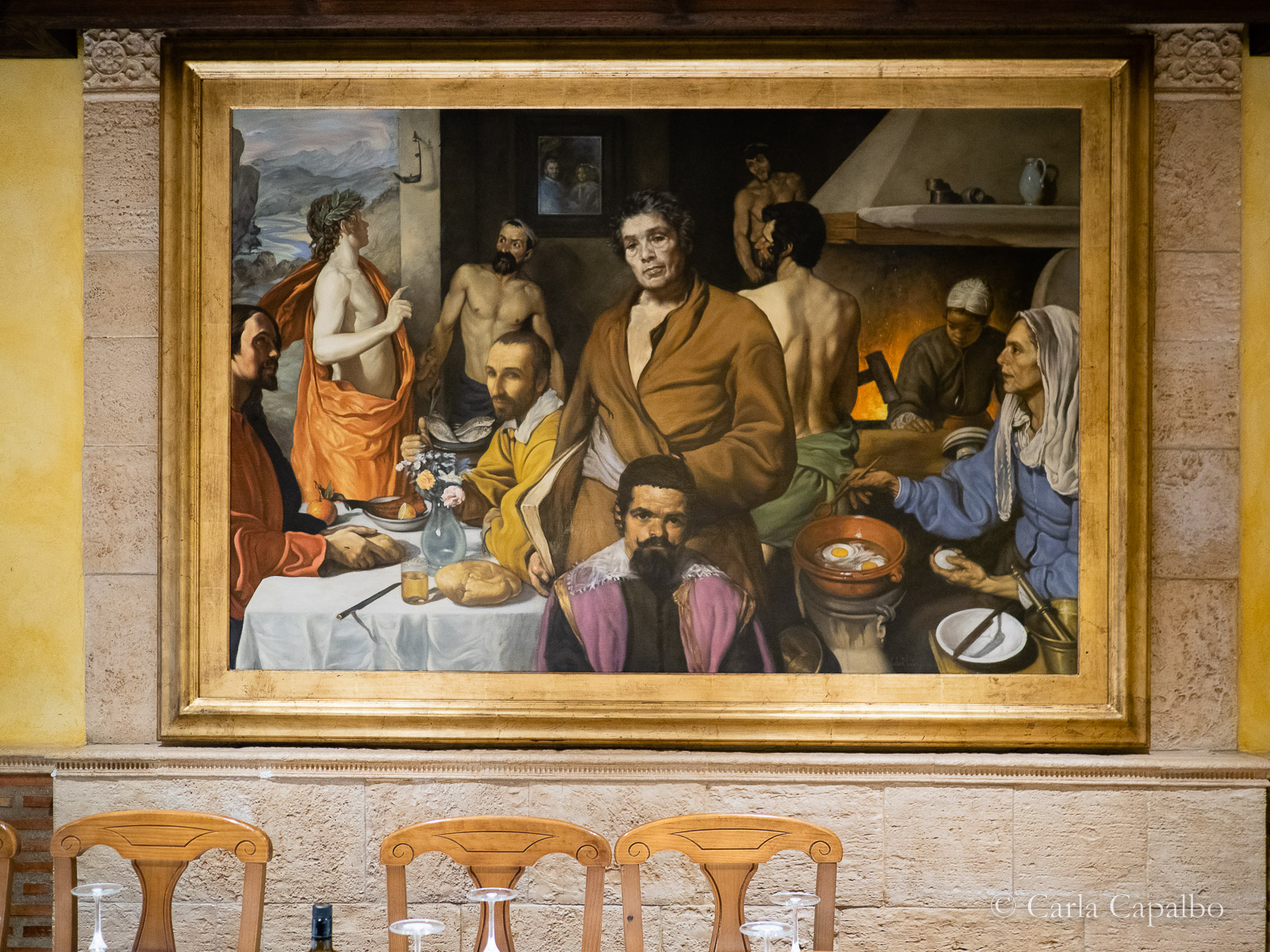 Spanish Pastiche at Pedro's
The wineries that took part in the event were:
• Bodegas Cano
• Bodegas El Tanino
• Bodegas Piqueras
• Bodegas Rodriguez de Vera
• Bodega Santa Cruz de Alpera
• Bodega Tintoralba
• Bodega Venta la Vega
• Dehesa El Carrascal
• Hacienda El Espino