It's a MAD world!
August 30, 2013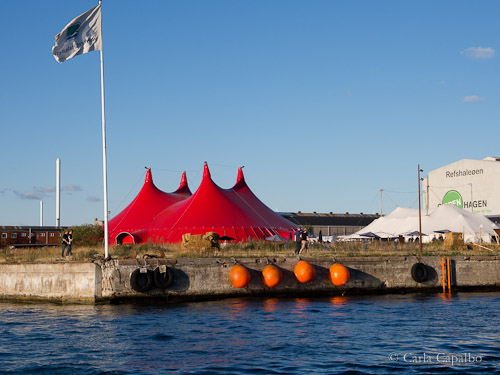 The tent pitched on some waste land
This week has been electrifying. Four days in Copenhagen, of which two at the amazing MAD Food Symposium, now in its third year. This year's theme was guts, and it took a lot of them to put together the line-up of chefs, activists, foragers, farmers and other food-minded people who gathered in a circus tent pitched in an unkempt field on the outskirts of Copenhagen to attend. MAD is an invitation-only event drawing an audience primarily of young chefs from around the world, plus a smattering of food writers. Altogether there were around 600 people.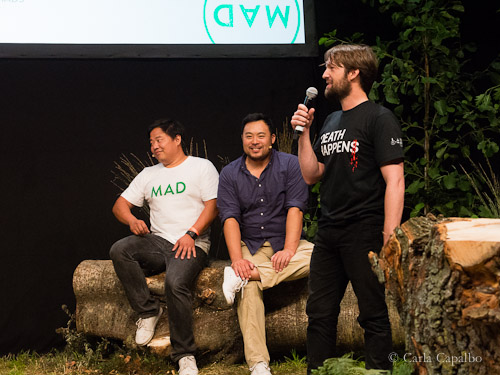 Chris Ying, David Chang and René Redzepi, the hosts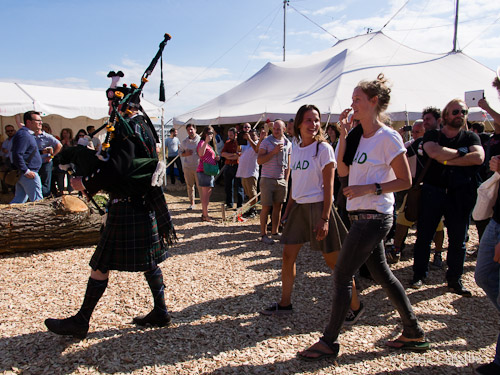 There was even a bagpipe to lead us into the final session
The brainchild of René Redzepi, MAD came together this year with co-curators Dave Chang and Chris Ying of Lucky Peach magazine, and with help from Ali Kurshat Altinsoy and Peter Kreiner. The format is structured: each speaker – and there were around 24 of them – has 30 minutes to make their presentation. In the middle of the day there's a buffet lunch for everyone, cooked on the first day by the women cooks from Lebanon's farmer's cooperative, Souk El Tayeb (their motto is: make food, not war), and on the second by Mission Chinese Food, from San Francisco and New York.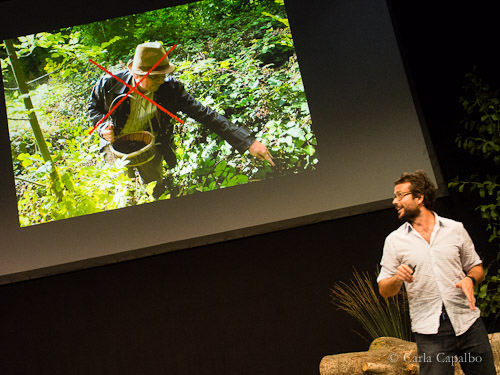 Puglisi demonstrating that there is no foraged food at his restaurants
Big name chefs – including Alain Ducasse, Pascal Barbot, Alex Atala and David Kinch – were joined by others who are better known within their local communities: Margot Henderson (London), Christian Puglisi (Copenhagen), Barbara Lynch (Boston), and Ahmed Jama (Somalia). Cookbook author Diana Kennedy was the most senior speaker; schoolgirl blogger Martha Payne, the youngest. They all inspiringly recounted their lives in food.
Activism was strongly represented too: alternative Nobel prizewinner, Vandana Shiva, came from India to light the fire under the young audience with a rousing talk about fighting for the sovereignty of seeds and the importance of indigenous agriculture. She says our stomach guts are dying: much of our natural healthy intestinal flora is being killed off by the fluoride, pesticides, antibiotics and weedkillers that are now saturating the food and water chains.
Food historian Michael Twitty was illuminating about the culinary traditions the slaves brought with them from Africa to the US. And Roy Choi, from the poor South Central areas of Los Angeles gave everyone a lesson in how to do something about it: he fights poverty and lack of decent food in 'the 'hood' by driving his Korean-Mexican taco trucks, or Kogi, into these culinary wastelands and spreading the word through Twitter…the long lines prove him right.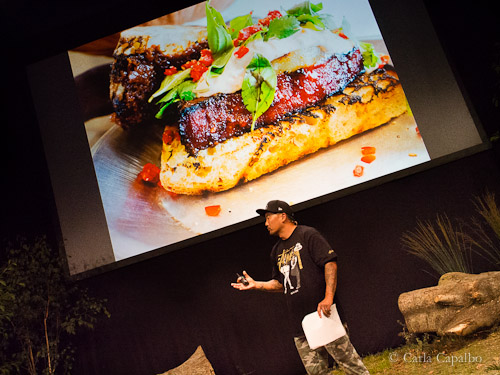 Roy Choi whets the audience's appetite
I was particularly moved by the presentation made by Dario Cecchini, the colourful butcher from Panzano. I first wrote about Dario almost 20 years ago, in my Food and Wine Lover's Companion to Tuscany, and we've been friends ever since. With the artistry of a great showman he held the stage as he skilfully sliced into a freshly slaughtered pig to reveal its guts, all as he spoke eloquently of the importance of conscientious butchers, and the difficult but important role they play between life and death, death and life. Dario is a Dante fanatic, and he ended his session by reciting the Paola and Francesco love story from the Divine Comedy. "You may not understand the words, but you'll get the passion," he said. We did.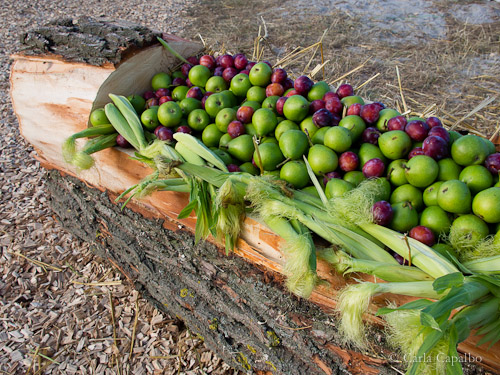 Dessert was fruit and sweet baby corn cobs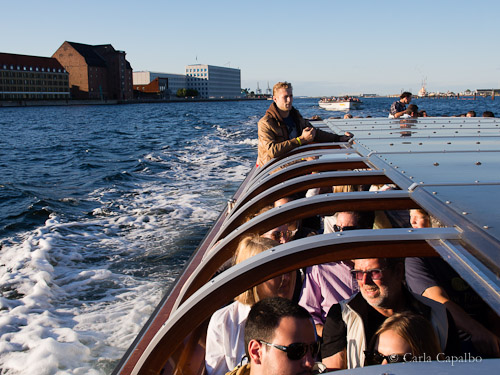 Heading back to the city after the Syposium
For more information about what I felt about MAD, see my article on Zester Daily. While I was in Copenhagen, I also ate at some of the culinary city's top new restaurants. My favourite was Amass, whose chef, Matt Orlando, was formerly a sous-chef at Noma. I'll be writing more about him and the others soon.