Paris, Brazil
January 31, 2012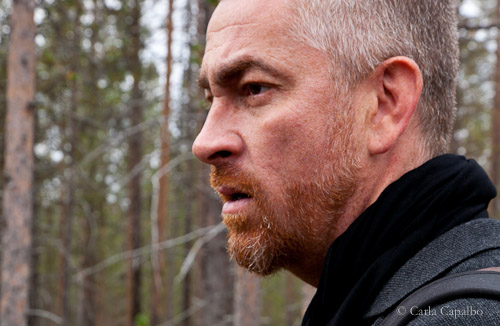 Alex Atala
I cruised under the Channel this week to attend Paris des Chefs, a three-day food festival. It's now being held in the Maison de la Mutualité in the 5th, a vast, creamy Art Deco palazzo that has recently been refurbished by architect Jean-Michel Wilmotte. Happily, it's across the street from Eric Kayser's bakery in the Rue Monge, still one of the bonnes adresses for baguettes d'auteur.
Paris des Chefs features 24 chefs, from the up-and-coming to the still-inspiring, and pairs each with a creative person of their own choosing: musician, painter, designer, ad man, winemaker. The chefs give 45-minute presentations with their chosen partners, with results that go way beyond recipe demos. I've written more on this for Zester Daily.
Brazilian star chef Alex Atala has repeatedly won top South American billing in the World's 50 Best Restaurants list. But since his restaurant D.O.M. is in São Paulo, it's not that easy for many of us to taste his cooking. This week, after his Paris des Chefs presentation, he prepared a press lunch at Alain Ducasse's Parisian flagship restaurant in the Plaza Athénée hotel. Atala is the first foreign chef to be invited to cook there as part of Ducasse's new quarterly 'Rencontres Essentielles' series. "I want to open my kitchen to friends who share the same vision of cuisine," Ducasse said. "A cuisine that is simple, almost brut, and entirely focused on produce and taste. An essential cuisine."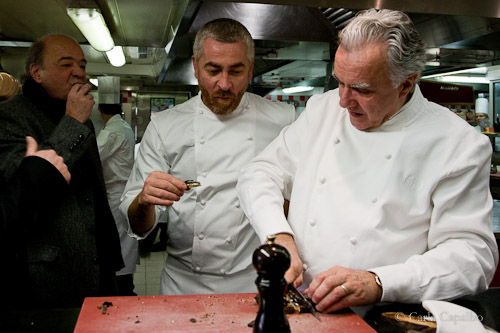 Atala with Alain Ducasse in the kitchen before the meal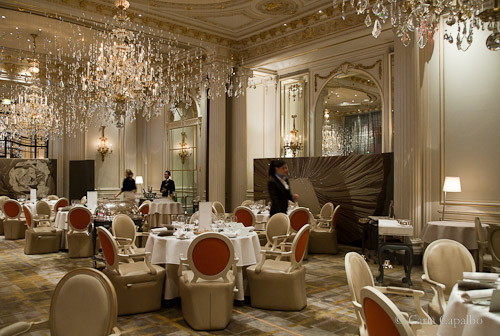 The restaurant interior
Atala's meal lived up to those expectations, taking us out past the sumptuous elegance of the crystal and beige dining room into a world of Brazilian flavours and textures. Tipping his hat to the French master, Atala's crisp mille feuille opener looked like a sweetly browned, buttery palmier but was crafted from manioc root. He paired it with lightly citric chibé accented with petals, aromatic leaves and fiery buds. Akin to couscous, chibé is made from soaked manioc flour.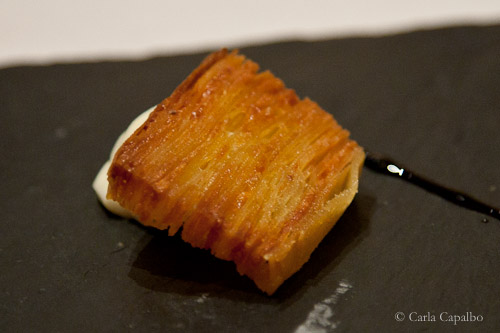 Atala's mille feuille of manioc root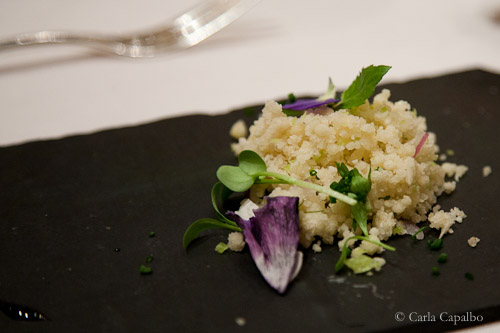 The chibé
Atala has pioneered the use of many native foods, bringing them out of the jungle to the tables of Brazil's city dwellers. "The Amazon is mysterious even for Brazilians," he says. Each of his lunch's eight, finely balanced courses revealed another thrilling aspect of this diversity, like the use of tucupi (an orange-yellow juice of the manioc root that has been boiled into a sauce) to marry with plump langoustine, sea urchin, and coriander. It left the mouth feeling cool and a little numb, like menthol or eucalyptus.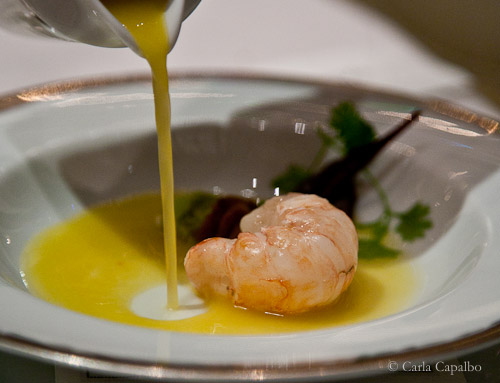 The tucupi being poured onto the langoustine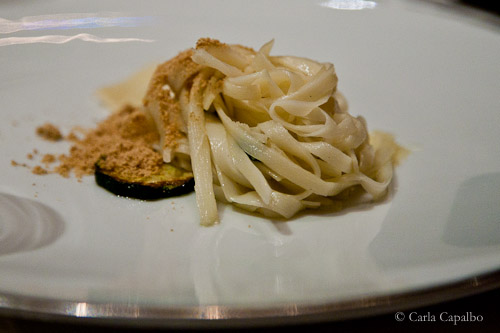 The taglietelle
Atala's tagliatelle fooled even me: they looked like noodles but were surprisingly juicy to the bite, made of thin strips of palm heart scented with sage. His skate wing came with peanut-smoked mandioquinha, a saffron-yellow root like a waxy, starchy carrot. My favourite dessert emanated the incense-like perfume of native priprioca: two jellied discs of citrus 'ravioli' trapped slices of diminutive banana at their centres, like pressed flowers caught in amber. This sensual dessert was sweet, then sour, then sweet again as the lemon-lime jelly gave way to fragrant fruit.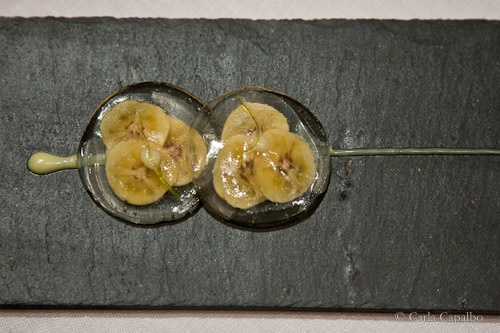 The banana dessert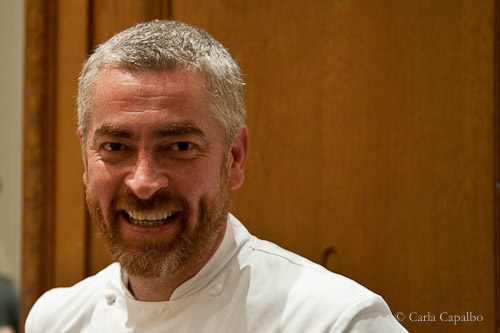 The lunch went really well, and Alex is happy
Alex Atala spent years cooking in France and Europe, so it's not surprising that his food reflects some of the forms and techniques of French cuisine while featuring tastes and ingredients that are, to us at least, exotically new and exciting. Bravo Alex! São Paulo, here we come!
Paris, France
Fabulous food! Anyone who maintains – as some do – that French cuisine has lost its way should get a new road map for the city of lights. A recent dinner at Le Chateaubriand confirmed Iñaki Aizpitarte's status as its most gifted enfant sauvage. His lively bistro, in the supposedly unfashionable 11th, merits its status of one of the world's top restaurants, without needing stars or toques to prove it.
Iñaki's imagination flows through his dishes like a live current, from the tiny cupful of ice-cold, liquid ceviche he starts you off with, sweet and sour in its thrill, to the oeuf brulé he ends with, where he sits a whole raw egg yolk on top of a mini pastry cup, sprinkles it with sugar, then browns it to cracking point. Tap into the caramelized yolk and its soft liquid centre spills out onto the buttery pastry and the salty sand crumbs below. Iñaki's not afraid to dress frilled Chinese mushrooms with sweet vanilla whipped cream and dried mandarins, nor to feature white winter cabbage in a baroque layering that made me think of the starched, ruffled collars on Rembrandt's sitters.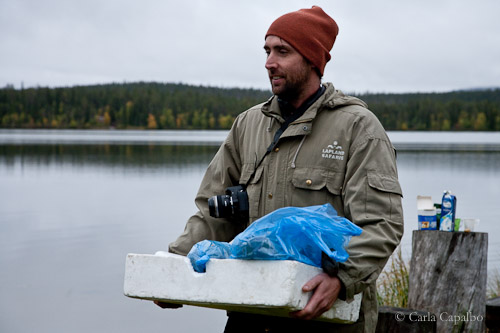 Iñaki Aizpitarte with his catch in Lapland at Cook it Raw in 2010
Iñaki's a free spirit, steered by an unfaltering sense of what goes and what doesn't in this new lexicon of his, where things no one's considered food before – like the bitter citron pith he pairs with slabs of rosy pork, pink grapefruit and pata negra ham jus – seem completely at home to our taste. Don't leave Paris without eating there! (129 Avenue Parmentier, 75011).
I have Andrea Petrini to thank (and not for the first time) for pointing me in the direction of Ze Kitchen Galerie, a chic, luminous restaurant in the heart of arty Saint-Germain. Chef William Ledeuil's is an eclectic cuisine that's poised between French and Thai, but draws flavours and ingredients from farther afield. The long room is animated by colourful modern paintings and a tiny, bustling open kitchen with as many Asian cooks as European.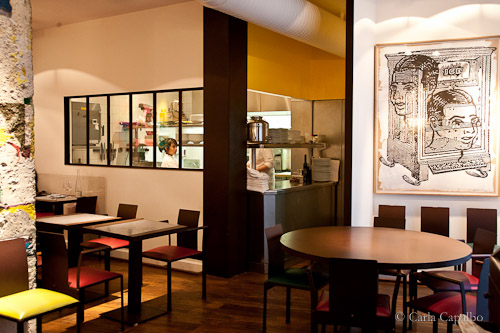 Ze Kitchen Galerie
Ledeuil's palette is upbeat, with spring colours giving way to refreshing, juicy flavours. A lobster and shrimp farce is lifted by clean notes of lemon grass, ginger, yellow mango and sweet citrus. I love the complexity of his sauces: tender Pyrenée lamb chops à la plancha are accented by a brick-red, Chorizo-Saté condiment that includes fiery mostarda di Cremona, ginger and apple. It would make a sophisticated BBQ sauce. This is food you keep coming back to, and with several prix-fixe options, it's affordable. (4, Rue des Grands Augustins, 75006).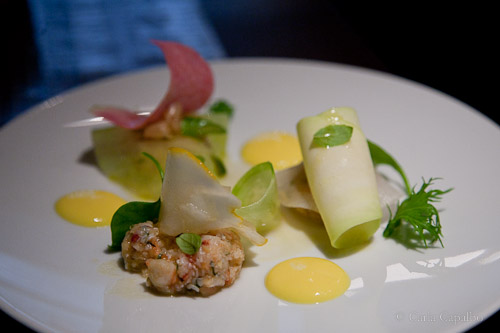 Ledeuil's lobster and shrimp farce with colourful radishes