Do Magnums Taste Better?
April 5, 2012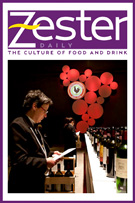 An annual wine tasting event in Tuscany explores the effect of bottle size on flavour.
Each year the three major Tuscan wine consortia of Chianti Classico, Vino Nobile di Montepulciano and Brunello di Montalcino pool their resources and Rolodexes and invite over 200 international wine writers to Tuscany for five days…
Click here to continue reading this article.